P E T   P O R T R A I T S
Here are some examples of my standard size pet portraits​​​. To view examples of bespoke projects please click

here.
Coloured Pencil Portraits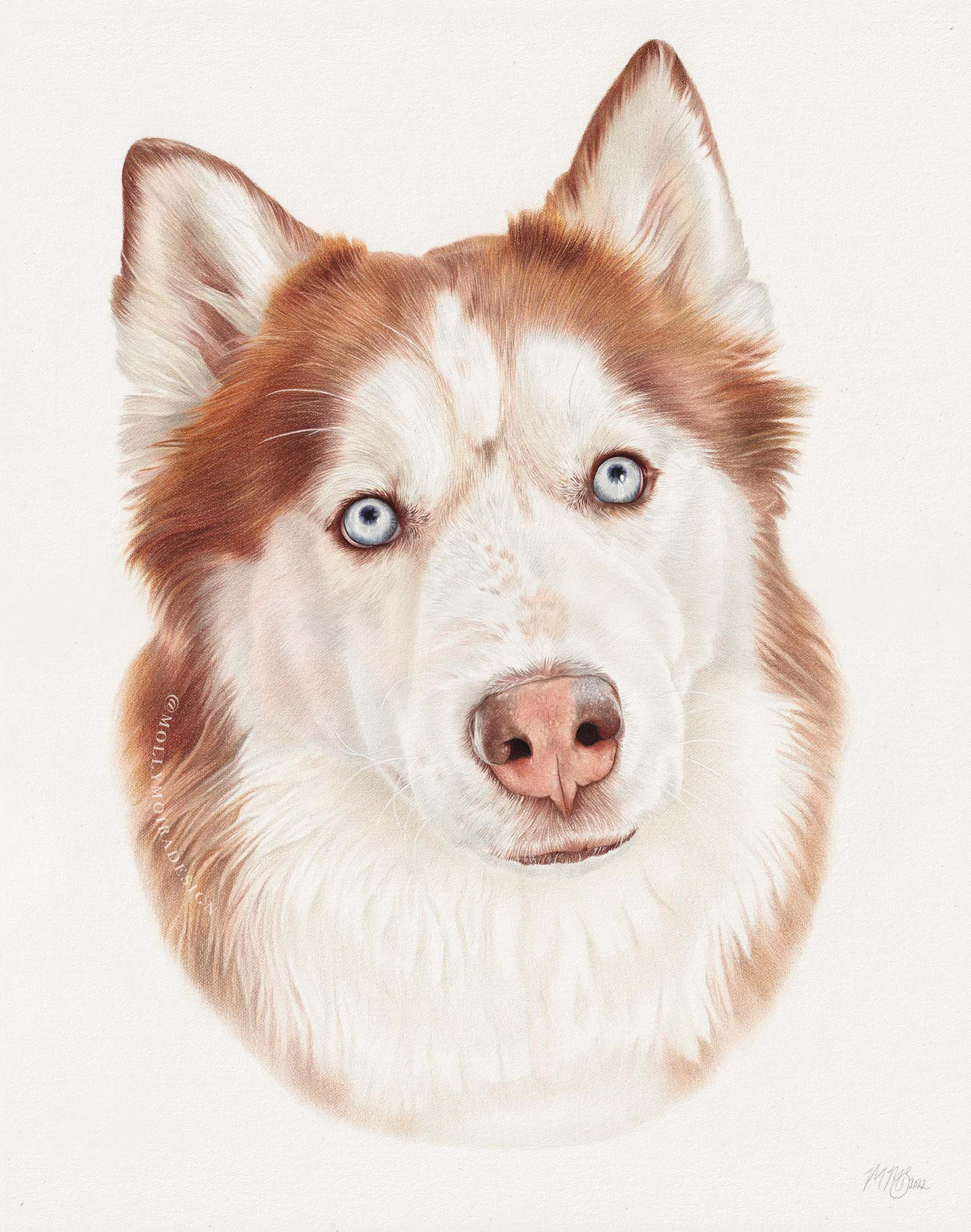 Graphite Pencil Portraits
"My daughter bought me a portrait for my birthday. What an absolutely amazing gift. Molly took special care and an astonishing amount of attention to detail to capture our much loved and sadly missed dog, Daisy! I'm overwhelmed by the portrait it really is outstanding and just like the Daisy we love and remember. Thank you so much for a gift that will be treasured forever and certainly hung in pride of place. Do not hesitate to have a portrait done by the lovely Molly her work is incredible."
"I absolutely love the picture Molly has drawn of my shih-tzu. She is a super talented artist and the whole process from start to finish was done openly with excellent communication throughout. I wholeheartedly recommend her to anyone considering getting a pet portrait done, you will not be disappointed!"
"Lots of tears tonight at this beautiful drawing of my best buddy who is no longer with us. The detail is amazing. Thank you Molly."
"I bought this gorgeous picture of my cat Tosca after recieving one of my other cat Dante as a gift (I couldn't play favourites). They are such a high quality and give such a perfect likeness of them. Both portraits will be cherished and I have no doubt I will continue to give any future pets the same treatment. I have already recommended Molly to my parents and would recommend her to everyone without question!"
"I was absolutely made up by the Mabel artwork. Thanks again Molly. Made my day."
"I got in touch with Molly at the end of November looking for a Christmas gift for my wife. Molly was honest from the start that she was fully booked up, but could provide a gift voucher to use as the present and then the picture would be booked into her schedule. The voucher was delivered and it was fantastic, well presented with lovely touches, and made a great gift. Arrangements were then made between ourselves with images of Millie and Maisie sent over following the well written and clear guides. A sample proof was sent to us and after given the go ahead Molly started, giving us regular updates throughout the progress. Once the piece was finished, Molly arranged for delivery to us, and we were extremely happy with the outcome, better than we could ever imagine. Molly has a fantastic talent and we have already recommended to many friends. Thanks again Molly, perfect from start to finish, we can't recommend you enough."
"I was lucky enough to know about Molly's amazing talent through my daughter as they were on the same degree course at Leeds College of Art. I wanted a portrait of our beloved dog Alfie and our 25th Wedding Anniversary in January was the perfect reason to commission a portrait for my husband!  The results speak for themselves. The likeness and is incredible, exactly like the photo. Alfie's personality shines through. I am so impressed with Molly's skill, not just with our picture but also her other work too. Thank you so much for this treasured portrait."
"I contacted Molly in November to commission a drawing for my mum, the communications were totally honest from the start, she couldn't start until February and we were in touch throughout, she was showing me progress once she'd started, I couldn't of asked for more. I can honestly say that mum was totally blown away by the drawing that she drew of Dash, our wonderful border collie who sadly passed away in October 2020 it is just like looking him in the eyes, the likeness is truly amazing, a gift for my family that we will cherish forever. You made my mum cry Molly but she says you're forgiven! You are a star and we wish you every success, you totally deserve it, thank you ❤️🌟🐶"
"Amazing portraits, the whole ordering process was very smooth and the quality of the drawing is miraculous. Would recommend for anyone looking to get a portrait of their beloved pets done! Thank you once again!"
"I cannot recommend Molly enough! Not only was the service absolutely amazing, super quick and very professional, but the quality of her work is incredible. From the initial discussion, Molly checked back on every minor detail to check it would be an exact replica, which it was! 
If you want an incredible drawing and excellent service then Molly is your girl! 
"Thank you Molly for doing the most beautiful portrait of my sisters precious dachshund Angel. What I love most about the portrait is that it captures Angel's character entirely and it is unmistakably her.
Molly was generous and meticulous throughout the process, she asked questions to make sure that every detail was covered, from the shade of Angel's coat to her personality.
Me and my family were so so impressed with the quality and I couldn't wait to give it to my sister for Christmas. I feel really lucky that Molly did this portrait, thank you for a priceless gift!"